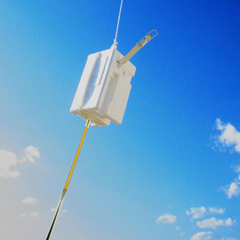 GPS radiosonde is an Upper-air sounding instrument for measuring various types of meteorological data; wind speed, wind direction, pressure, temperature and humidity.
Wind speed, wind direction and pressure are calculated from the speed of travel and altitude obtained by GPS positioning techniques; and temperature and humidity data measured from respectively tuned thermistor and electrostatic capacitance humidity sensor.

1 sec sampled GPS data and 1 or 0.5 sampled temperature / humidity data are transmitted over PCM via a TDM network. The transmitted data is automatically processed through a data processor at the surface station.
The installed PLL oscillator employs narrow FM and conforms to ETSI.