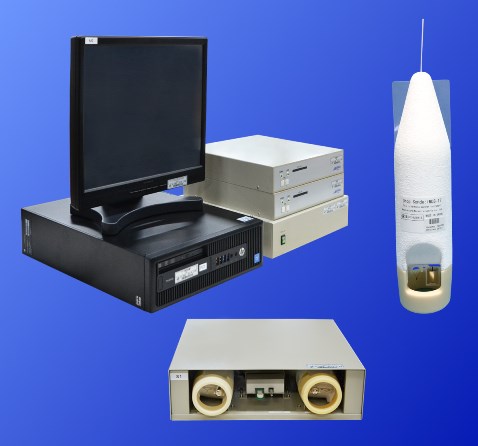 This system is an Upper-air meteorological observation instrument which measures a vertical profile of Upper-air atmosphere using a dropsonde. Dropsonde will be dropped from the aircraft and will transmit temperature, humidity, atmospheric pressure and GPS information on the carrier wave of the 400 MHz meteorological band. This system is installed in the aircraft, receives and demodulates this carrier wave, and visually displays transmission data.
MEISEI's dropsonde (iMDS-17) is lighter than the previous dropsonde that measurement can be performed without parachute. This dropsonde also can be dropped from the shooter on the air craft since a parachute is no longer needed.
As of 2017, in Japan, Gulfstream-II(G-Ⅱ) operated by Diamond Air Service (DAS) is equipped with the drop sonde receiving system and is contributing to typhoon observation.